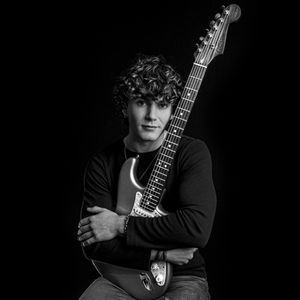 ABOUT
The first thing that grabs you is the voice. Soulful, rich, and indifferent to gravity, it soars over melodic, detailed pop that's unlike anything you've heard before but something you instantly want to hear again. Richard's playful personality and undeniable charm has captured the hearts of the internet, bringing in over 9k Instagram followers this year and 300k YouTube views. Richard's fans love to engage with all of his content and his accounts are constantly growing.  
This charismatic pop recording artist, singer/songwriter and guitarist builds on a CV already stacked high with countless accolades and awards, two EPs, and performances on marquee stages from Toronto to Los Angeles and many points in between as both headliner and sought-after supporting artist.   
Richard's single 'Hands' dropped in April 2021 earning him a featured spot in Music BC's Artist of The Week, a 2021 CMW featured artist showcase, a placement in the semi-finals of the UnsignedOnly Music Competition in the Pop/Top 40 category and to set the stage for this rising emerging artist, Richard earned himself the Grand Prize Winner spot in the Jim Beam® Bourbon's Virtual National Talent Search in partnership with Canadian Music Week. The competitions webisodes garnered over 5.7 million impressions and counting and includes a performance spot for Richard live on stage at the 2022 Jim Beam® INDIE Awards in front of thousands of industry insiders and indie fans from Canada and around the world who are looking for the next big thing.  Hands is currently at 385K steams on Spotify.
2023 has two new Singles "Red Lights" released January 13th is gaining lots of attention & "Missing You" released May 26th. With assistance of a Grant from FACTOR BC, Richard is finally releasing his debut album "In & Out of Love" Spring 2024.
Richard is just getting started, you can expect more great things to come from this multifaceted pop star in the making.